Folk Uke News
MAY 2012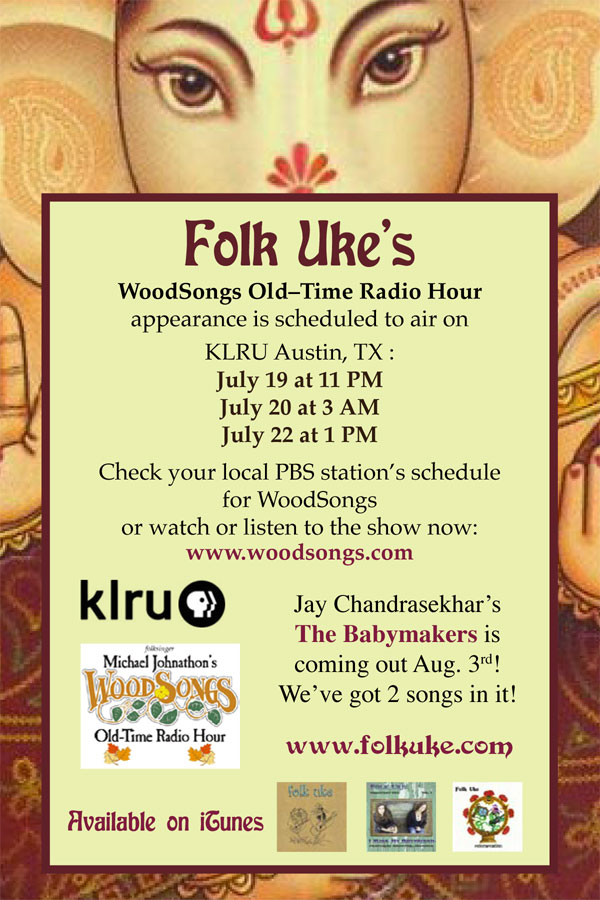 ---
APRIL 2012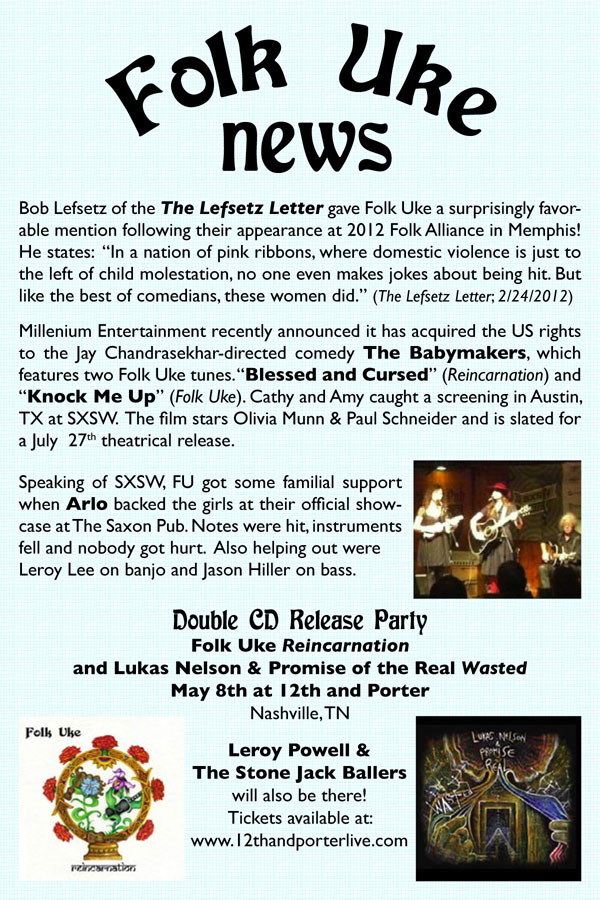 ---
MARCH 2012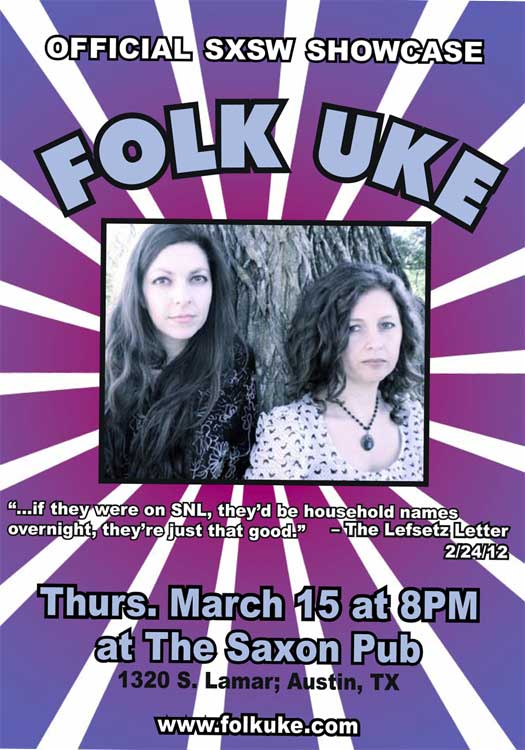 ---
AUGUST 2011
Hey Everyone!
Our new album "Reincarnation" will be released on November 22, 2011.
1. He Needs Me
2. Blessed and Cursed
3. Nobody Blues
4. Quattro Momento
5. Worthless
6. My Little Singer
7. I Miss My Boyfriend (featuring Shooter Jennings)
8. Filthy Floors
9. Long Black Limousine
10. Reincarnation
---
APRIL 2011 - UPDATES
We thought we'd add some news since it's been awhile.
NEW SHOW! YAY!!!
WHAT: Willie Nelson's Birthday Party
WHEN: Saturday, April 30, 2011
WHERE: The Backyard at Bee Cave
WHO: Willie Nelson, Paula Nelson, Folk Uke and maybe some other special guests...
HOW: buy tickets
We are also mixing our next record "Reincarnation"...Actually, Abe is mixing our record, so be on the lookout for that coming soon...
It looks like we're going DOWNUNDA again this Fall, so if you're in Australia in October/Novemba look out for FOLK UKE!!!
That's all the news for now.
Love and kisses,
Folk Uke
---
DECEMBER 2010 - AUSTRALIA
To our friends and lovers in Australia,
Some confusion has arisen from an inaccurate UkiLeak. We are not performing in Australia in December or January. We are working on an Australian tour for later this year... Sorry for the confusion.
Love always,
Folk Uke
---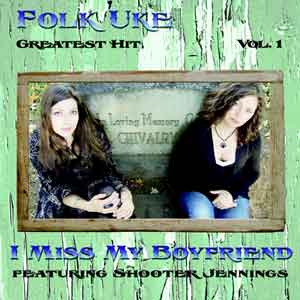 NEW SINGLE
NOW AVAILABLE
I Miss My Boyfriend (Will You Hit Me?)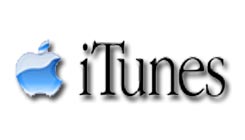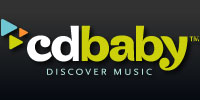 WARNING! IMPLICIT LYRICS. potentially offensive subject matter
---
APRIL 2010 - SHOWS ADDED IN TEXAS AND HAWAII
Texas -Folk Uke has been added to the 4th of July Picnic this year at The New Backyard at Bee Cave.
Hawaii - Folk Uke is playing a show with The Reflectacles on Saturday, May 22nd.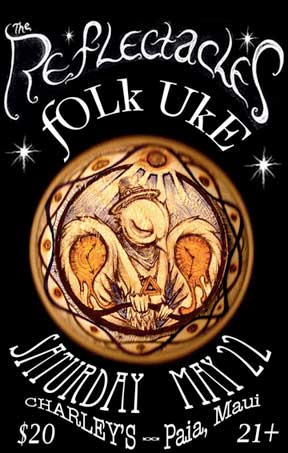 JANUARY 2010 - FOLK UKE'S AUSTRALIAN TOUR JOURNAL :
Tales from Down Under (As Recalled from Up Over)

JANUARY 10-13: LOS ANGELES TO SYDNEY
Flight delays due to cold weather and engine lights forced us to fly from Los Angeles to Sydney
at separate times. By the time Amy arrived, Cathy had already gotten into trouble with the law,
as she had tried to smuggle some almonds into Sydney. Luckily, they caught her at customs
before she could contaminate the whole country. They did allow her to keep her cashews as a
reminder: We don't want to cashew smuggling almonds again. Rob Scott from Sandcastle Music,
who initiated our trip down under, awoke before dawn two days in a row in order to pick us both up
from the airport. Thanks Rob.

JANUARY 13: BRASS MONKEY
Brass Monkey is likely to be the coolest place in Sydney. Dimly lit, red walls, great food (or feed
as it is called down under), and a wonderful sound system. The only problem was Amy, who was
exhausted from arriving that day and could fully see her own nose. Yes, she was cross-eyed, and
determined to bring Cathy down to her level.

Luke O'Shea (www.lukeoshea.com) played the first set of the evening, raising the bar so high,
we could easily get under it. Next, canadian songwriter, Dan Mangan (www.danmanganmusic.com)
performed with bassist Michael Liston. Their set was so good it brought us back to life for long enough
to play ours. Offstage, their bad jokes and great puns made us feel immediately at ease around them.
It felt like home. The crowd was kind and enthusiastic; the staff were friendly, supportive, and didn't
seem to mind when when we mispronounced their names. It took some time to get used to the accent.
We called "Chris" "Bruce" for a good portion of the evening.

Brass Monkey's owner, Geoff Trio, who was also our tour promoter, was kind enough to warn us of
some of the dangers of Australia. He told us of drop bears, seemingly cute Koalas that drop from a
trees and scratch the shit out of passers by. Then there are bunyips, big teethy monsters that could
chase and devour us at any time, and tire snakes who roll up in tire formation and can roll faster than
any of their victims can run. Those Aussies are brave to live in such dangerous conditions.
Thank God we had Geoff there to look after us. He even sprained his ankle wrestling a bunyip just
days before. We felt safe with him, since he now brandished a crutch.

JANUARY 14: NOTES
The next show was at Notes in Newtown. The artists who shared their show with us were Gabby
Huber and Cameron Potts from Dead Letter Chorus (www.myspace.com/deadletterchorus),
and Leroy Lee (www.myspace.com/leroyleemusic), who were incredibly kind to us, and
made us feel welcome to mess up the end of their show however we could.

Signs that read "Bill Posters Will Be Prosecuted" were all over Newtown. Leroy said that they
seemed fairly certain they would catch him. That night we listened to some of the best original
music we had have ever heard. Leroy's soulful songs, vocals, guitar, and stomp-box sounded
like three people at times. It made us want a stomp-box too, and some coordination to go with
it. The Dead Letter Chorus duo has amazing voices, melodies, and harmonies. For our show,
we messed up a bunch of times to hold the crowd's attention, and that worked for us. We kept
an eye out for Bill Posters for the rest of the evening, but there was no sign of him.

JANUARY 15: QIRKZ
Next we played a house party of sorts in a place called Qirkz. Dan Mangan shared the bill again, as
well as an intriguing original solo act called Fergus Brown (www.facebook.com/pages/fergus-brown).
Elvis Presley and Homer Simpson attended the show with some of the most plastic women we'd seen
since we left L.A. To get through these tour dates, we were going to have to wear extra make-up and
perhaps fall off our stools to keep up the momentum set by the artists preceding us.

JANUARY 16: TAMWORTH COUNTRY MUSIC FESTIVAL
The Tamworth Country Music Festival was the next stop. The ride was beautiful and we even saw
some kangaroos taking naps on the sides of the the highway. This must be what the locals referred
to as "micro-sleeps". Tamworth was where we were to meet a new member of the Folk Uke family,
Lana. She was homeless...a black and shiny Lanakai ukulele that we found at Cheapa Music.
We met some incredible people at Tamworth, most of whom were sharing the stage with us. Paul
Greene (www.paul-greene.com) was performing that night, and we were fortunate to hear his insightful
songs, and to speak with him about how home is everywhere on Earth. Angie Hart (http://ihartangie.net)
turned out to be a long lost soul sister of ours, and she taught us some great Australian slang, kinoath
(fuckin' oath). We were blown away by her beautiful voice. It was a long walk back to the stage. After our
set, the crowd went wild...for Josh Pyke (www.myspace.com/joshpyke) who put on a heck of a show.

JANUARY 18: CLARENDON GUESTHOUSE
Next, we made our way upward to a magical town called Katoomba, (bless you). Leroy arranged
a visit for all of us to experience Scenic World, an old coal mine deep in the Blue Mountains. The
mountain magic and the pumpkin soup for lunch energized us and got us ready for a sold out show.
We stayed and played at the lovely, spirit-filled Clarendon Guesthouse. Spectacular performances
by Leroy, Dan, and Mike left us feeling blessed to be in attendance, and humbled to share stage
time with such genuine and talented artists.


JANUARY 19: LIZOTTE'S
Lizottes in Newcastle was surrounded by swarming bats and exotic birds with pink feathers. Dan and
Mike, once again, shared the stage with us. Over the tour, we got into the habit of putting on make-up
during their show. There's a reason they call it make-up, so we applied more and more after each song.
Amy got carried away and took on a new persona that night, Amy Crackhouse. Needless to say, Dan's
show was great! The evening ended with the best sing-a-long to "Motherfucker" yet, when Dan and Mike
accompanied us from a go-go cage. Struth (it's the truth).

JANUARY 20: RUBY'S
We flew to Melbourne the next day where we were to play our last two shows of the tour. In addition to
us and Dan Mangan, a great local artist, Jen Cloher (www.myspace.com/jencloherandtheendlesssea) was
in the line-up at Ruby's. Jen's music is simultaneously ethereal and grounding. Angie Hart and her sister,
Becky, came out to the show. Angie joined us for a rendition of "I miss my boyfriend", and stayed for the
"Motherfucker" finale with us, Dan, and Mike. We never had it so good. We even had a stalker at this show,
but we couldn't keep him. By the end of the night, we looked for him and he was gone. As it turned out, we
offended him.

JANUARY 21: THE EAST BRUNSWICK CLUB
The East Brunswick Club where they took excellent care of us. A fellow San Diegan, and acclaimed
(for a good reason) songwriter, Steve Poltz, attended the show. It was great to see him, and he stayed late
despite the fact that he had to get up early. What a trooper. Jen Cloher performed again and this would be our
last night to see hers or Dan's show for a while. We are fortunate that we got to tour with such great musicians,
and consequently some of the funniest people we have ever met. Case in point, Dan picked up a microphone
from the sound board during our rendition of "Knock Me Up" and inserted his "erection". It was our best and
worst show. We couldn't get through any of the songs without laughing, yet the crowd laughed with us, or at us.
Either way it was funny.

JANUARY 22: WANDERING AROUND MELBOURNE
Left to fend for ourselves the following day, we strolled around Melbourne, drank lots of coffee, and explored
the shops. We had dinner at a restaurant near Public Toilet Drive, signifying that our journey through the land
of Oz was coming to a close.

JANUARY 23: MELBOURNE TO LOS ANGELES
The flight back to Los Angeles was fourteen hours. It was so long that we finally got tired of each
other and broke up the band. With the remaining 13 hours left in the flight, we got bored and decided
to get the band back together. We are looking forward to the Official Folk Uke Reunion Tour (OFURT), which
should book itself. Thanks again to Rob Scott at Sandcastle Music and Geoff Trio at Code One for making our Australian tour possible. Kudos to them, or any candy bar that they want. We hope to be invited back immediately. We're waiting anxiously by the phone...


Favorite CD's we brought home from the trip: Leroy Lee (self-titled), Dan Mangan (Nice, Nice, Very Nice),
Dead Letter Chorus (The August Magnificent), Jill Barber (Chances), King Curly (The Fall and Rise of King Curly)

JANUARY 2010 - HAPPY NEW YEAR!
Let's be friends.... TWITTER, FACEBOOK, MYSPACE
HEY AUSTRALIA! HERE WE COME!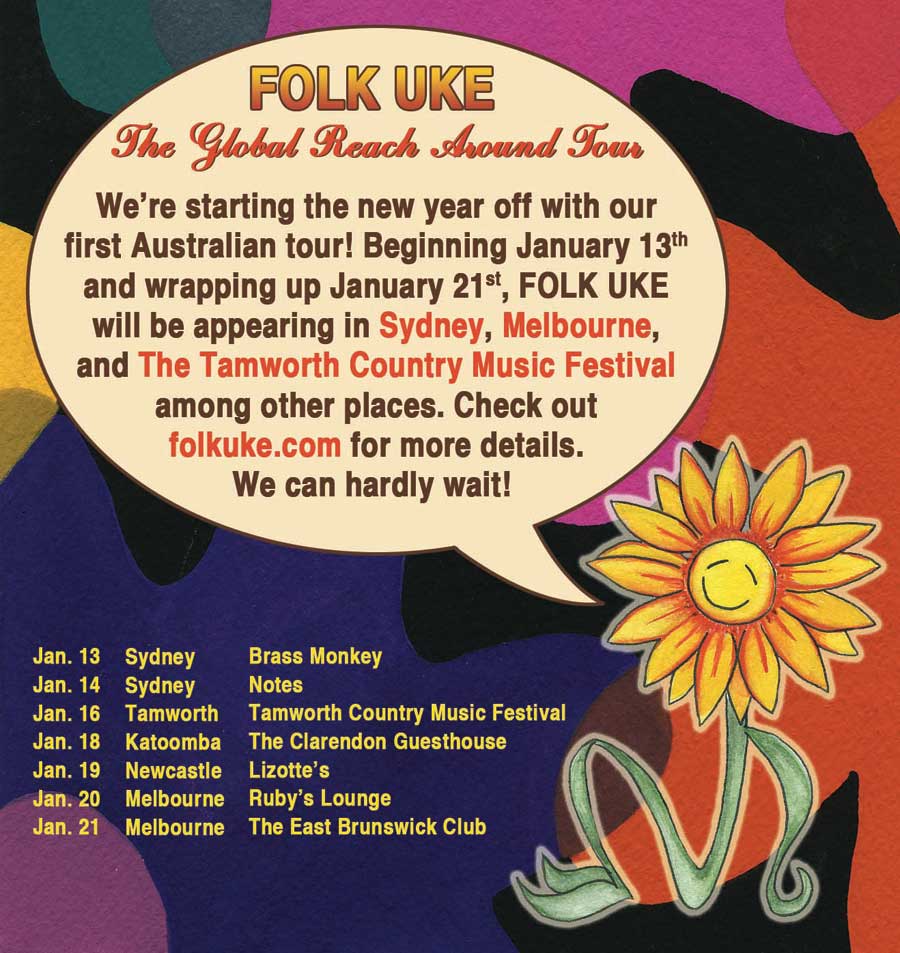 JUNE 2009 - THIS WEEKEND!
COME OUT AND HELP US TO CELEBRATE THE LIFE OF POODIE LOCKE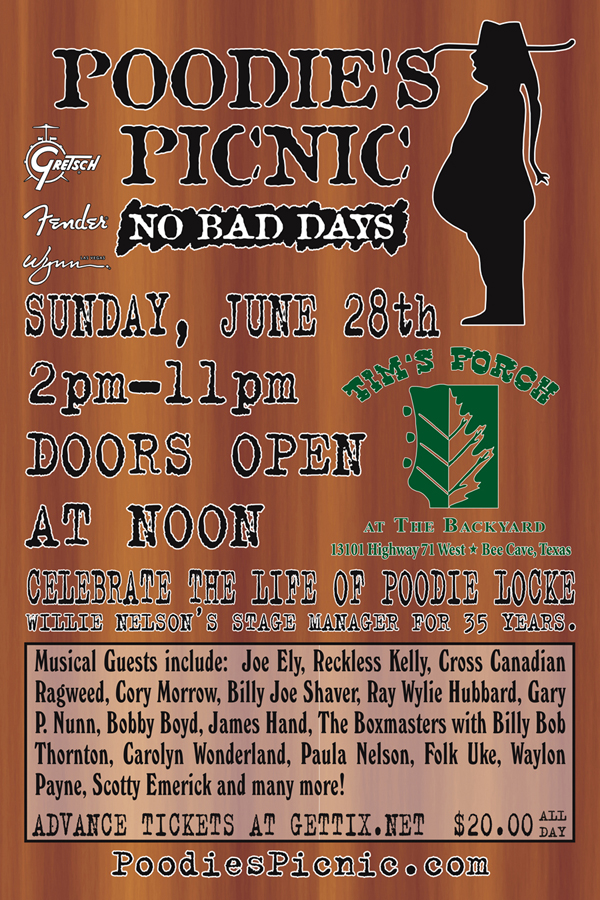 APRIL 2009 - JUST ADDED
SHOW THIS WEEKEND, FOLK UKE WEED SEED, AND NEW SHIRTS!
We just added a show for this weekend at Willie's Place Theater, Carl's Corner - Saturday, May 2nd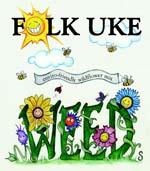 MARCH 2009 - TWITTER, FACEBOOK, MYSPACE
Let's be friends....
***************************************************************************************************

MAY 2008 - GIVE LOVE GIVE LIFE - MOTHER'S DAY SHOW - AUSTIN, TX
Here are some details on this Sunday's show...

As most of you know, we've joined up with our friend, the acclaimed poet, activist, and national recording artist, John Trudell (www.johntrudell.com), for a series of musical events called Give Love
Give Life (www.givelovegivelife.net). Give Love Give Life is an awareness concert, with a message to prioritize healthcare for women and children.

The Austin Give Love Give Life event will be this Sunday, Mother's Day (May 11th, 2008)
at La Zona Rosa in Austin, TX. Doors open at 2pm. Show starts at 3pm. Free admission to mothers, and also children under 12.

This time, most of the Nelson family is getting involved. Nelson Ray Fowler, Herald and Mod,
and the Paula Nelson band all feature members of the Nelson family who wholeheartedly support
the Give Love Give Life Project.

Here's the line-up:

Nelson Ray Fowler
Herald and Mod
Folk Uke
(Intermission)
The Paula Nelson Band
John Trudell and the Madness
DECEMBER 2007 - VOTING HAS STARTED
Don't forget to vote for "Motherfucker Got Fucked Up" for 2007 Song Of The Year.

Go to to sirius.com/howard101 to vote, and you can also enter to win a Stiletto 2 portable satellite radio.

The Song Of The Year Show airs on Howard 101 at 9pm Eastern on New Year's Eve and New Year's Day.

Voting ends at 5pm ET on January 15, 2008. The winners will be announced Feb. 4, 2008 which airs at 7pm ET.
DECEMBER 2007 - A VOTE FOR FOLK UKE IS A VOTE FOR FOLK UKE
"Motherfucker Got Fucked Up" will be featured on Red Peters' special 2-hour 2007 Song Of The Year Show that airs on New Years Eve, from 7-9pm on Sirius Satellite Radio, Howard 101.

The idea is to play all 20 songs and artists that were featured on the show from the 2007 season, and give the fans and listening audience the opportunity to vote for their favorite song.

The show will replay several more times over the following two weeks (schedule to follow) and listeners will be directed to the sirius.com/howard101 website to a special polling ballot listing the top 20 songs, and asked to vote for their favorite song.

Voting will run from December 31 and end January 15 at 5pm Eastern.

In addition to the on-line voting, there will be a panel of 6-8 judges* that will listen to and score each song on a scale between 1 and 100. All decisions of the judges will be final.

At the conclusion of the public voting, the number of individual votes will be combined with the judges individual scores and a total number for each song will be tabulated.

After the initial airing of the show, he will be running promotional spots containing snatches of each song on The Howard Channels throughout the two week period, encouraging listeners to vote for their favorite songs.

The song with the highest number of votes will be named Song Of The Year. The winning group or artist will be awarded the 2007 Song Of The Year trophy.

The official results will be made public and announced in the closing minutes of the February 4, 2008 Red Peters Comedy Music Hour. The winner will be contacted prior to that show, and a representative or spokesperson for the winning artist or group will asked to record a one minute acceptance speech that will be aired on that show.

Not only will this be a lot of fun, it will be an excellent opportunity for you to vote for your favorite band...
The following is a list of artists and songs in the order in which they appeared this year on his show, and the order for the Song Of The Year show.

"This Song Sucks" Page The Village Idiot
"Motherfucker Got Fucked Up" Folk Uke
"Vagitarian" SHAT
"My Pussy Is Magic" Jessica Delfino
"Inside" Honchie
"A Blowjob Is Better Than No Job" The Beaver Boys
"What's It Gonna Be?" Mike O'Connell
"You Liver Lipped Son Of A Bitch" Titler
"I Ran Out Of Toilet Paper" Terrible Tim
"Everybody's Out To Fuck You" The Beanweevils
"Christian White Man In America" The Billionaires Club
"You Ain't A Man Until You Had A Man" Muckafurgason
"I Gotta Pee" JJ650
"Jerkin' Off Tonight" Lil Mikey Roohan
"Let's Make Fuck" Run With The Kittens
"Fuck The Shit" Sons Of Butcher
"Myspace" The Fresh
"Use Your Fucking Blinker" Use Your Blinker
"Because I Can" Muck Sticky
"Pet Problem" El Privates
*JUDGES (the below 6 are confirmed)
Red Peters- songwriter, producer, recording artist and host of The Red Peters Comedy Music Hour on Sirius

Carl Caprioglio- President of Oglio Comedy + Oglio Records (purveyor of fine comedy albums from artists such as George Lopez, Andy Dick, Jackie Martling, Henry Phillips, Red Peters and more)

Richard Christy- musician and writer for The Howard Stern Show on Sirius Radio

Jackie Martling- nationally acclaimed stand-up comic and songwriter, and host of Jackie's Joke Hunt on Sirius Radio

Ian Karr- comic, film + video director, and co-host of Jackie's Joke Hunt on Sirius Radio

Timothy Shamey- renowned illustrator and cartoonist for Mad Magazine and the NFL, and frequent contributor to The Howard Stern Show and The Red Peters Show
www.redpeters.com
www.myspace.com/redpeters
***************************************************************************************************
***************************************************************************************************

July 2007 - Amy's Tour Journal
To recap, Folk Uke's three show tour started with Woodyfest where I followed Cathy up onto the stage, a bit too closely, and stepped on the back of her flip flop, spinning her around, and she came out of her shoe and it was all tangled in the cords. That set the tone for the whole "tour."

For some reason, things kept happening that prevented us from practicing. One night Cathy's childcare fell through, the next day it was a trip to the emergency room with an elderly Guthrie (fine now). We messed up almost every song, started some over again. The word on the street was that people liked us because they thought we were a comedy act, messing up on purpose, because we couldn't possibly be that bad. ;) Oh, and our introduction that day was an apology because they accidentally invited the PTA. They asked them to leave, lest they be offended.

Then we opened up for Paula at the Saxon in Austin, and that was fun. We played only our vulgar set, opening with "I miss my boyfriend, will you hit me." That went over great.

For our third show, we had to fill an hour at Buddy's 2 (Dallas's premiere lesbian bar). We were all set to practice the night before, it rained hard and I got stuck at my mom's house with the road flooded on both sides. No practice, but we were able to make it to the show. That was a tough crowd and we sucked again, but we turned it into a drinking game where they would have to take a drink every time we messed up. We did mess up a lot and then, after the show, I signed my first boob.

***************************************************************************************************
***************************************************************************************************


June 1, 2007
We finally booked some shows! Three, to be exact. We're giving the folks who live nowhere near Oklahoma or Texas plenty of notice so you'll have time to plan a summer trip. Texas in July...what could be better?


July 14, 2007 3:30pm Brickstreet Cafe Okemah, OK
for Woody Guthrie Folk Festival (www.woodyguthrie.com)

July 18, 2007 7:00pm Saxon Pub Austin, TX
(with Paula Nelson, Pauline Reese, and....www.thesaxonpub.com)

July 21, 2007 10:00pm Buddies II Dallas, TX (www.buddiesii.com/aboutus.php)

***************************************************************************************************
***************************************************************************************************
IN OTHER NEWS......

The Red Peters Comedy Music Hour is in the process of putting together their 5th All Submission Show.
Folk Uke is proud to announce that our lullaby, "Motherfucker Got Fucked Up", is part of this group.

It will be broadcast June 4 at 7pm ET on Sirius Satellite Radio Howard 101. The show will replay at Midnight June 4, and Midnight ET on each Saturday June 9,16, 23 and 30.

During the show, Red will play all the featured songs from the last 4 shows and encourage listeners to go to www.sirius.com/howard101, and vote for their favorites. When they scroll down to the Red Peters billboard on that page, there will be a poll listing each song and artist.

The voting will be open from Monday, June 4 thru Friday, June 15 at 5pm ET. The results will be announced on the July 2 Red Peters Comedy Music Hour.

***************************************************************************************************
***************************************************************************************************

A quick note from half of the band....

Check out Dad's new website dedicated to peace....www.willienelsonpri.com
:), Amy

***************************************************************************************************
***************************************************************************************************

Texas Legislature Again Rejects Efforts to Legalize Horse Slaughter Austin, TEXAS
(May 29, 2007) Last night, the stroke of midnight marked not only the end of the Texas Legislature's 80th session, but also the end of the line for two of the nation's foreign-owned horse slaughter facilities. For four years, proponents of horse slaughter have tried to overturn a 1949 law that prohibits the sale, possession or transport of horsemeat for human consumption.
"Texas citizens have been loud and clear in their opposition to horse slaughter, and elected officials have listened," said Chris Heyde, deputy legislative director for the Society for Animal Protective Legislation (SAPL). "This is the second Texas legislative session to shoot down attempts by the slaughterhouses to overturn a long-standing law against this brutal practice."
In recent weeks, one amendment was tacked on to an otherwise uncontroversial bill in the Texas Senate, but was removed when it reached the state's House of Representatives. Pro-horse slaughter lobbyists only a few days ago were in search of other bills that could be amended to keep these plants open, but their efforts ceased when it was clear that they didn't have the votes.
"Hundreds of thousands of Texans are breathing a sigh of relief that we've finally driven a stake through the dark heart of the horse slaughter industry," said Susan Hendrix, vice president of Texas Humane Legislation Network (THLN). "Even with some of the most influential lobbyists in Austin working as hired guns for the horse slaughter plants, it was clear to the majority of legislators that they were trying to defend a practice that was truly indefensible," she added.
With horse slaughter stopped in Texas and the sole operating plant in Illinois closed, it is critical that the US Congress act immediately to prevent American horses from being sent abroad for slaughter. Passage of the American Horse Slaughter Prevention Act (AHSPA), introduced as H.R. 503 and S. 311, is the only way to ensure horses do not suffer even greater cruelty by being shipped to plants in Mexico and Canada.
"The American Veterinary Medical Association and other groups that worked to keep horse slaughter plants open have stated that it would be cruel to send horses to Mexico, and this is the one issue we both agree on," Heyde said.
SAPL commends the hard work and dedication by Texans who led the fight in Austin, including THLN, T. Boone and Madeleine Pickens, Habitat for Horses and country music legend Willie Nelson.
As the legislative arm of the Animal Welfare Institute, SAPL is the unsurpassed leader in obtaining laws to benefit animals in need, including the protection of domestic and wild horses. For more information on how you can help end horse slaughter, please visit www.saplonline.org/horses.htm.
The THLN is a grassroots nonprofit organization that promotes the humane treatment of animals through legislation, education and advocacy. For more information about THLN please visit www.thln.org.

***************************************************************************************************
***************************************************************************************************

Thank you for tuning in to FOLK UKE NEWS, your source for news every once in a while......

**************************************************************************************************

October 1, 2006 - UPDATE ON THE HORSES
UPDATE: On September 7, 2006, the House of Representatives voted 263 to 146 in favor of H.R. 503, the American Horse Slaughter Prevention Act, to end the slaughter of horses for human consumption and the domestic and international transport of live horses or horseflesh for the same purpose.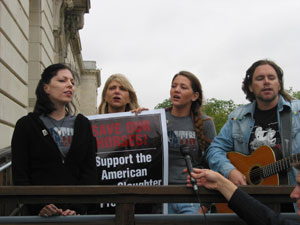 From left to right: Amy Nelson, Paula Nelson, Raelyn Nelson Sweeney, and Johnny Irion (appearing courtesy of his wife/band, Sarah Lee Guthrie) at Capitol Hill singing Wild Horses in support of The American Horse Slaughter Prevention Act (H.R. 503/ S.1915) on Sept. 5th, 2006.

The fight is not over. Please begin calling your Senators immediately to ask that they cosponsor S. 1915, the Senate companion bill. General Switchboard number 202-224-3121. Just tell them your state and to please connect you to your Senator's office.

Once Congress goes into recess (Oct. 6th), there will be an opportunity for people to meet with their Senators. Of course, letters help too. There are people fighting us on this. We need as much help as we can get.
Find your Senators: http://www.senate.gov/general/contact_information/senators_cfm.cfm

Reasons the Senate should pass The American Horse Slaughter Prevention Act:

• The majority of Americans support an end to horse slaughter for human consumption. Polls from Kentucky, Virginia, Texas, and Utah respectively show that 82, 74, 72 and 69 percent of those questioned oppose the practice. In California, a 1998 ballot initiative (Prop. 6) banning horse slaughter for human consumption passed with 60 percent of the vote.

• Our economy does not profit from this industry. Since the profits go overseas, these companies avoid paying federal income taxes. Taxpayers payed $5 million to inspect the three U.S. slaughterhouses last year.

• Slaughter is not humane euthanasia. Over 90% of horses killed are young and in good health; and there is nothing humane about the process. Frightened horses are not as easy to control as cattle, making accidents and injury a common occurence for both humans and horses.

• Horses not specifically raised for human consumption are treated daily with products such as fly spray, wormers, hoof dressings, etc. These products have labels severely warning against use on animals used for food.

• These horses are not "unwanted", rather, they are "for sale". In fact, many are stolen. Many more are sold to slaughterhouses at closed auctions. The potential problem of overpopulation can be avoided with responsible breeding.

• It is in the best interest of all companion animals that the line is drawn here and now.

For more information, visit www.saplonline.org.
---
August 19, 2006 - Join Amy and her family on Capitol Hill and stand up for the horses!
FOR IMMEDIATE RELEASE:


Folks, America has a dirty little secret and it's not that little.

Horses have always been an American symbol of freedom. Their loyal, relentless work is what made this country. They are the living legends of American history. So why is it that we are allowing nearly 100,000 horses to be slaughtered annually in America for human consumption in slaughter houses that are foreign owned? It must be because we didn't know.

Even worse, the treatment of horses going to slaughter is most often inhumane. They suffer injuries in overcrowded trailers, abuse by handlers, and they are often conscious during acts of mutilation and slaughter. It's like stepping on the American Flag.

The passage of the American Horse Slaughter Prevention Act (H.R. 503 and S. 1915) would put in place a permanent and immediate ban on both the slaughter of horses in the U.S. and the exportation of live horses for slaughter abroad.

Now that you know, make your voice be heard. Join Bo Derek, Ken Wahl, Jennifer Pryor, The Barbi Twins, my family, and a host of others on Capitol Hill on Sept. 5th, 2006 to support the bill that will be introduced and voted on that day.

Call or write your representatives today, and tell your friends and neighbors to do the same.
Please go to http://www.saplonline.org/horses.htm.

It's time for the cowboys to stand up for the horses.


Sincerely,
Willie Nelson
---
June 21, 2006 - A note to our compassionate friends

On August 29, 2005, hurricane Katrina struck New Orleans, changing the face of the city forever. A group of people rallied to save the thousands of hurricane-affected animals. From this, grew Animal Rescue New Orleans, a non-profit organization run by local volunteers who continue to rescue and care for the animals. Seven months later, there are still thousands of animals living in the most devastated parts of the city. Volunteers go out to 250 square miles of the city to fill food and water stations and trap many animals that are still out there.

Animal Rescue New Orleans is in need of volunteers, food, and donations. Many of the cats and dogs that have been sighted at food and water stations are pets that were once owned and the owners are still trying to find them. These people are depending on us to feed their pets until they can be trapped and reunited with their families.

There are many different opportunities to help. If you can't make it to New Orleans, and you can't afford to donate, there are still ways that you can help from home.

Visit www.animalrescueneworleans.com for more information on how to help.

Thanks,
Amy and Cathy
---
March 29, 2006 - Folk Uke Tours the Northeast!
Saturday, April 29th, 2006 • New York, NY • NY Uke Fest • Theater for the New City • www.nyukefest.com • Two shows: 7:00pm and 10:30pm

Tuesday, May 2nd, 2006 • Saratoga Springs, NY • Caffè Lena • www.caffelena.com • 7:00pm

Friday, May 5th, 2006 • Somerville, MA • Ukulele Noir • Sky Bar • www.ukulelenoir.com • 8:30pm

---
March 6, 2006 - Folk Uke receives 4 Stars!
Andy Argyrakis from concertwirelive.com reviewed the Folk Uke CD and gave it 4 out of 5 Stars!
click on the logo to read the review

---
March 1, 2006 - Folk Uke is #1 at KAOS
KAOS 89.3 fm Program Guide
KAOS Music Department Top 10
by Bryan Johnson & Ben Kennedy, KAOS Student Music Directors

As Music Directors at KAOS it's our job to preview every CD that comes in to the station. Since the
beginning of the year we've previewed well over 5,000 CDs ranging from hip hop to electronic,
experimental to rock, folk to metal, and everything in between. It's been a good year for independent
music - there's even been some pretty good major label releases, and we've come up with our top ten
albums of the year. It wasn't easy but whatever illogical reasons these ten left the biggest impressions.
Enjoy! Bryan and Ben


#1. Folk Uke, (self-titled, self-released): The KAOS Music Department's favorite album of the year;
one listen and you'll know why. Amy Nelson and Cathy Guthrie, daughters of Willie Nelson and Arlo Guthrie, lay down eight tracks of sometimes naughty, sometimes obscene, and always pretty ukulele-
driven folk. Amazing harmonies abound in songs like "Tonight You Belong to Me"&Mac255; and "Knock Me Up."
A nightmare for the Parent's Music Resource Center but a dream come true for fans of downright
beautiful music.
---
February 15, 2006
We've added a new "SHOWS" page. There are two shows coming up this spring in the northeast and we're working on booking more. If you are interested in booking Folk Uke, you can send an e-mail to cathy@folkuke.com.
Video for "Shit Makes The Flowers Grow" on indie911.com
---
January 22, 2006 - Folk Uke at the 2006 Folk Alliance Music Conference - Austin, TX
Saturday, February 11, 2006
8:00pm - Gibson Showcase Party - by invitation
9:00pm - The Ark Room - OFFICIAL SHOWCASE

Sunday, February 12, 2006
12:30am - Freight & Salvage Room - OFFICIAL SHOWCASE

Monday, February 13, 2006
9:00 - Arlo Guthrie & Friends - Ridin on the City of New Orleans
with Cyril Neville, John Flynn, Ramsay Midwood, The Burns Sisters, Folk Uke
Tuesday, February 14, 2006
TBD Threadgill's - more details coming soon...
---
November 30, 2005 - NEW SHIRTS!!!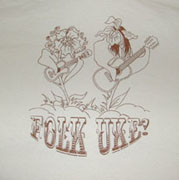 We've got new t-shirts at the STORE.
100% certified organic cotton from American Apparel.
---
October 21, 2005 - Vote for Folk Uke!
Attention all voting members of the Recording Academy

The Grammy Nomination Ballots are out!

Category 2 – Album of the Year
#172 Folk Uke

Category 3 – Song of the Year
#174 Fences
#298 Knock Me Up
#479 Shit Makes The Flowers Grow

Category 4 – Best New Artist
#124 Folk Uke

Category 38 – Best Country Performance by a Duo or Group
#013 I Still Miss Someone
#014 Tonight You Belong To Me
#015 Try To Say Goodbye

Category 41 – Best Country Song
#030 Fences
#064 Knock Me Up
#109 Try To Say Goodbye

Category 68 – Best Contemporary Folk Album
#048 Folk Uke

---
August 25, 2005 - Folk Uke on myspace.com
---
July 30, 2005 - Folk Uke Update
The Woody Guthrie Folk Festival in Okemah, OK was great fun this year and the folks at the Crystal Palace treated us with lots of enthusiasm and compassion. We messed up a couple times, but none of you even noticed. Thanks. :)


UPCOMING FOLK UKE APPEARANCES:


Monday, August 1st - "Waking up with the Wolf" show on WPYX 106.5 FM, Albany, NY 8AM est

Thursday, August 4th- "Hootenanny" at the Guthrie Center
4 Van Deusenville Rd, Great Barrington, MA

Every Thursday the Guthrie Center has a Hootenanny. Members get in for $5.
Non-members $10. Musicians and volunteers get in FREE.
Doors open at 7pm show starts at 8pm.
Details are at www.guthriecenter.org or call George 413.528.1955.


Thursday, September 8th- "Americana Tonight" at The Sutler, 2608 Franklin Rd. Nashville, TN - $5 cover
Here's the complete lineup:
12:00 Michael O'Neill www.michael-oneill.com
11:15 Rick Schell www.rickschell.com
10:30 Grayson Capps www.graysoncapps.com
9:45 Tom Gillam www.tomgillam.com
9:00 David Olney www.davidolney.com
8:15 Billy Don Burns www.billydonburns.com
7:30 Amy Speace www.amyspeace.com
7:00 Folk Uke www.folkuke.com
6:30 Stoll Vaughan www.stollvaughan.com
Folk Uke CD now available at:

CD Baby - www.cdbaby.com/folkuke

Amazon.com - www.amazon.com

Rising Son Records - www.risingsonrecords.com
---
June 16, 2005 - Folk Uke - Available for Digital Downloads
GOOD NEWS! You don't have to sit outside waiting for your mailman to deliver your copy of Folk Uke! Go get your digital downloads now from Apple iTunes, MSN Music, Sony Connect, MusicMatch and many more....
---
May 22, 2005 - Folk Uke - CD Release Party at Woody Fest 2005!!
Folk Uke will be celebrating the release of their self-titled debut CD at the 8th Annual FREE Woody Guthrie Folk Festival July 13-17, 2005! We don't have all of the details yet, but we do know it will be in the Crystal Theater in Okemah, OK. Other artists playing this year include Sarah Lee Guthrie and Johnny Irion, The G Babes, Ramsay Midwood and Jimmy LaFave... Check out www.woodyguthrie.com for more information.
Folk Uke CD - If you don't have the new Folk Uke CD, what are you waiting for???
CD Baby - www.cdbaby.com/folkuke
Amazon.com - www.amazon.com
Rising Son Records - www.risingsonrecords.com
---
April 29, 2005
I just received my official advance copy of Folk Uke's CD! It looks great! Earthy and friendly much like their music unless you actually pay attention to what they say, thus the Parental Advisory printed on the cover! Cindy Bradley's art and design is fantastic! Congratulations Girls!
~IRVANA
---

April 14, 2005 - IRVANA'S BACK!
I bet you are all wondering what has happened to me. I have been in hiding since Woody Fest 2004. Boy, that Sarah Lee can be very persistent. I had to come to terms with the fact that I just had to hear her out if I was ever going to return to my life's ambition.... following Folk Uke. I got some interesting information from her. I just haven't figured out how I am going to use it.

All of this has cost me my life savings so I was forced to take a cub reporting job for Arlo Guthrie. I figured it would be a good place for me to be since he is after all 1/4 responsible for Folk Uke (Cathy's dad). You're probably thinking ok that's great, now tell us about Folk Uke....

So I will... Folk Uke is preparing for the official release of their CD NEXT MONTH on May 3rd. I haven't heard any plans of a CD release party yet but my unofficial informant tells me they might play Woody Fest in Okemah this July. I will keep you posted on that tip.
---
March 15, 2005 - NEWS FROM FOLK UKE
We've got a date! On May 3rd the "Shit" hits the fans! Folk Uke will release the long-awaited self-titled, debut CD featuring 8 songs that will make you laugh, cry and wonder why...
To sign up for our private mailing list, send an e-mail to mail@folkuke.com.
---
August 14, 2004 - MORE NEWS FROM FOLK UKE (Irvana, if you are reading this, please come back to work. We miss you!)
Folk Uke hung out at Earth Stuph in East Nashville today and played a few sets during the Grand Opening celebration. Thanks, Nicole and Ruth for having us. Your store is fantastic! It was a beautiful day and we had a great time. We've posted some new pictures from today on the photos page.
---
August 7, 2004 - NEWS FROM FOLK UKE

"Cathy Guthrie's opinion of the JibJab parody of her grandfather's song" on Boing Boing.
FOLK UKE blogged on Ukulelia
---
August 5, 2004 - NEWS FROM FOLK UKE

Well, we've officially been called NSFW by someone who visited our site. Not sure if this was an insult or compliment, we had to look it up and found that it stands for Not Suitable For Work. Taking this advice, we both quit our jobs and now we're hittin' the road! Our first stop... the grand opening of our favorite shop in East Nashville... EARTH STUPH on Saturday, August 14th. We'll be playing sometime between 12:00pm and 4:00pm.


Speaking of NSFW, we're hoping to release our debut, self-titled EP in October. A couple of our songs might not be appropriate for kids or work. Inappropriate songs are appropriately titled. Here's our track listing so far:
"Tonight You Belong To Me"
"Shit Makes The Flowers Grow"
"Fences"
"Knock Me Up"
"In Case We Die"
"Motherf***er Got F***ed Up"


Before you leave the site, check out our store.

---
June 24th 2004

Wow the security at the Guthrie Center is really serious! I just got my computer back! But that hasn't stopped me from doing what I do best. Thank goodness I had my trusty camera and a cub reporter pencil!

I made it down to Okemah, OK like I promised I would. Turns out, only one half of Folk Uke showed up! Word on the street is Amy's cat got sick and she couldn't make it. It took 4 people to take her place in the band! I kept my distance from Annie but Sarah Lee spotted me after the Guthrie Family Jam band played at the Brick Street Café. Great Show.. But they didn't do any Folk Uke tunes. I have to admit I was a little nervous as she approached me I wasn't sure if she was anything like her sister, Annie!

SARAH LEE: You are IRVANA, right?

IRVANA: Not sure.. Why you asking?

SARAH LEE: Well I would really like to talk to her. Hmmm, strange you look an awful lot like the pictures they have posted at the Guthrie Center. Are you sure that you're not sure if you are IRVANA?

IRVANA: uh. Yeah.

I wasn't sure what to think about this Sarah Lee, but I wasn't going to take my chances. Not now anyway! I still had plenty of time left over the weekend to figure it all out. Besides I wanted to get back to the hotel without anyone else seeing me!

That night, Arlo was going to be performing at the main festival site. I wasn't sure what my next move was going to be so I went back to the hotel since I had a few hours to draw up a plan.

I must have fallen asleep at the table because someone tapping on my hotel room window suddenly waked me. Who could it be?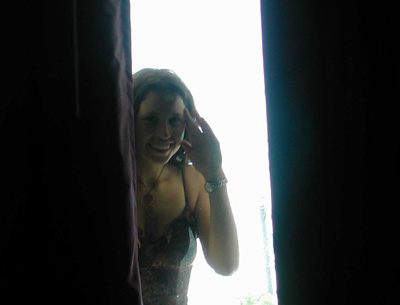 July 6, 2003 - Happy Birthday to Amy!
WOW, I can't believe that my last article actually got posted on the Official FOLK UKE website. I guess I'm not being ignored after all… At least not like IRV…

As it turns out Arlo is dodging IRV left and right. He even moved his offices to Florida to get away from him.. No wonder I am not getting anywhere…

Meanwhile, at the Guthrie Center I found myself outside after the show standing next to Annie, Cathy's sister. Here it was, my BIG chance to get my foot in the door. I was so nervous I wasn't sure what to say.

IRVANA: Annie, would you um, mind if I, um, asked you a few questions about FOLK UKE?
ANNIE: You aren't that maniac reporter that's been following them around are you? I heard she's pretty crazy. Cathy told me that she was found rummaging through Amy's trash last week. Can you imagine?
IRVANA: Who? Me? Oh no, I uh, just happen to be a reporter, who, uh, just well.... Who said I was, I mean she was crazy?
ANNIE: It's you.. You're the nut that's following Cathy and Amy around… SECURITY!

Oh well, I guess I will just have to catch them in Okemah…

OR, maybe Willie hasn't heard about me yet…. Hummmmm

Somehow I came across a CD of Folk Uke. After listening to it over and over again I decided that I needed to meet to the girls behind the music. Several attempts have been made to contact these folk heroes to be….

It has now been months and I have been turned down more than any hotel bed sheet. Finally, I got a lead. I heard that the Guthrie Family would be performing at the Guthrie Center in Housatonic, MA on July 4th weekend. I went hoping to get a few words from the family about "The Girls".

Coincidently, among the intimate crowd at the concession stand I ran into a distant cousin of mine, Irv. We hadn't spoken in years but as it turns out he has been reporting News for Arlo Guthrie's sometimes-quarterly newsletter, The Rolling Blunder Review. Irv thought that maybe he could get me an interview with this living legend, regarding his daughter's new recordings.

While at the show I ran into Folk Lite (one of the most well-known folksingers of a very secret underground scene).

FOLK LITE: Hey Irvana what brings YOU here tonight?
IRVANA: Well, Folk Lite, I came across an interesting CD, FOLK UKE.I haven't been able to get their songs out of my head. Since they have turned down every interview request, I thought I'd come here tonight and see if the family has anything to say.
FOLK LITE: WOW, FOLK UKE! I love them… They have inspired every song I have ever sung… Cathy and Amy are just great. I can understand why you would want to learn more about them. Maybe I can help. As I can see you have already figured out that Cathy is an offspring of Arlo. And Amy, well, I am afraid that she has suffered the same type of fate having come from Willie Nelson. I'm not real sure what their songs mean but they sure do get stuck in your head! Oh wait - I think that Sarah Lee Guthrie and her husband are about to start the show… Let's talk more later…

And Folk Lite was right, Sarah Lee and her husband Johnny Irion came out and graced the audience with some really amazing originals and beautiful harmonies… But, enough about them I am here for one reason and one reason only… The family didn't really stick around after the show. Word has it that they had to get home and shoot off some fireworks or something like that.
So, here I find myself getting ready for another night at the Guthrie Center. Maybe Irv had a chance to talk to Arlo….

For more information about Sarah Lee and Johnny, visit their website, www.sarahleeandjohnny.com.

July 1, 2003 - Folk Uke will be playing at the Woody Guthrie Folk Festival in Okemah, OK as part of the Guthrie Family Jam Band on July 11th at the Brick Street Cafe. For more information, go to www.woodyguthrie.com.
December 2002 - Amy and Cathy have been spotted somewhere near Texas. Do we hear recording bells ringing or are those just jingle bells? More news later...